Shopify Payments Alternatives
Alternatives to Shopify Payments? Why replace Shopify's excellent, in-house and well-integrated payment gateway with a third-party provider? Well, as a rule, the question simply doesn't arise for smaller merchants. Shopify Payments has reasonable pricing and simply works solidly. Coupled with the high transaction fee (for the smaller Shopify packages) for external payment providers, the chances of smaller merchants saving money are rather slim.
However, there is also the reverse case, where Shopify simply excludes cooperation with a store: It may be due to the store's products, among other things. For example, nicotine, nicotine replacement products or even alcohol. In many cases, it is simply not accepted by Shopify Pay. Also, if the store is based in certain countries, for example Estonia (very popular because of e-residency) or even Switzerland, Shopify Payments is not an option. Here you are forced to look for an alternative to Shopify Pay.
General disadvantages of Shopify Payments
Shopify Payments becomes a little more expensive than the competition as sales increase. At the latest, stores that use the Shopify plan "Advanced" (Shopify Advanced, makes financial sense from a monthly turnover of about 50,000 €), should at least calculate the alternatives. In addition, we occasionally hear from some customers that the acceptance rates of Klarna are not optimal when used via Shopify Payments. If you integrate Klarna as an external payment provider, i.e. "directly", you pay Shopify's transaction fee in addition, but have much better acceptance rates. If you sell high-priced products for which customers use Klarna Pay Later (purchase on account), there is a good chance that you will quickly recoup the fee with the additional sales.
Costs: Alternative providers vs Shopify Payments
Note: In the following we use the providers Mollie, Adyen, Stripe and Skrill as an example, because these (better known) providers mention the fees on the website. We have not yet worked with Adyen, Stripe or Skrill in combination with Shopify, so the mention is not to be understood as an absolute recommendation. We have already used the provider Mollie (the only provider from the EU (Netherlands)) in Shopify projects and can recommend it.
Example:
Let's assume a store operator who makes €50,000 in sales (monthly) via credit card payment and uses Shopify Advanced. (For simplicity's sake, we'll limit ourselves to VISA, as fees vary slightly depending on the provider).
With Shopify, we would be at 1.8% + €0.25 per transaction here on the Advanced plan. In a quick google search, Adyen has already offered us 0.90% – 1.10% + 0.10 € fee per transaction, Skrill: 1.2% + 0.29 €, Stripe 1.4% + 0.25 € and Mollie 0.25 € + 1.8%. Mind you, without having requested an individual price for our illustrative transaction volume of €50,000 per month from any of the providers. This means that we would already be slightly cheaper (or identical) to Shopify Payments, and perhaps even significantly cheaper after an individual offer.
Note for external payments:
With all providers, the 0.5% fee for external payment providers would still apply to Shopify. (By the way, with Shopify Plus the transaction fee would be 0.15%).
The costs for chargebacks, withdrawals, currency exchange, etc. should of course also be checked before switching.
Payout duration can vary depending on the provider. For example, Mollie pays out twice a week, which can be convenient for traders with cash flow problems.
External "gateway" payment providers
For external payment providers, a distinction is made between:
Normal: A payment provider that processes the payment itself with one or more payment methods (PayPal, Skrill, Amazon Pay, etc.).
Gateway: A payment provider that acts as a bridge to other payment providers:

Shopify Payments – Payment by Klarna, credit cards, etc.
Adyen, Stripe, Mollie offers dozens of payment methods
Here it is important to compare, because there are scenarios in which gateway providers can be cheaper than the "normal" provider.
Recommendation for external payment providers
We would rather recommend taking a look at providers from the EU, first and foremost of course Klarna Direct Integration or Mollie from the Netherlands. The market of payment providers is quite competitive. As an established merchant with noteworthy sales, you are in a comfortable position. If you work directly with the providers, you have the opportunity to negotiate individual conditions and that holds immense potential.
Payment via Amazon Pay & PayPal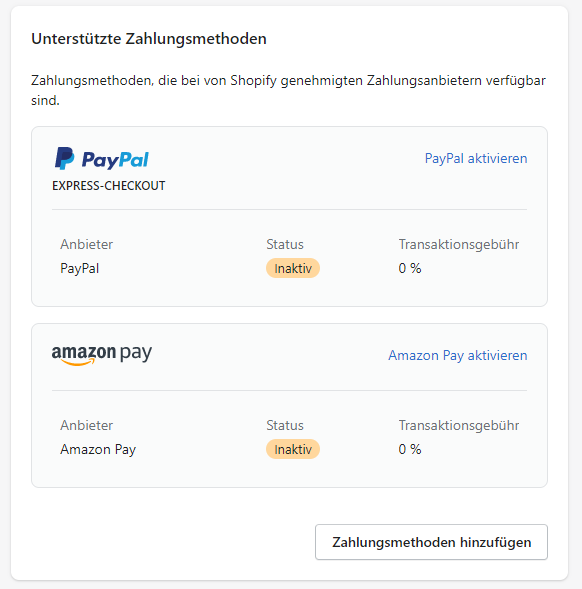 For the sake of completeness, we cannot leave the two providers Amazon Pay & PayPal unmentioned. The designation as Shopify Payments alternative would be exaggerated, but both providers are of course absolutely recommendable and can be used in addition to Shopify Payments.
You can connect both as express payment providers in the store. Therefore, both are included on the payment methods page directly after Shopify Payments. You basically just have to create a business account with Amazon Pay or PayPal, then connect the store with a few clicks under Admin > Settings > Payments.
Note: If Shopify Payments is also active, then the transaction fee is waived for both providers.
Manual payment methods on Shopify
We do not want to leave out the manual payment methods on Shopify: Prepayment ("Bank Deposit"). With prepayment, there can be no talk of an alternative to Shopify Payments. Many customers use the payment method, but the lack of automation options often makes it more difficult for large stores than the savings on the fee is worth. (One option here would be Billbee, but of course it always depends on the processes "behind the store").