Shopify E-Commerce shop software
Shopify store software is currently the world's leading system from the cloud, which our agency specializes in. The project started in 2006 when Tobias Lütke from Koblenz wrote the first lines of code to sell snowboards online. Today, the small software for personal use has become one of the largest e-commerce companies in the world.
There's a reason over 1,000,000 ecommerce businesses rely on Shopify, because Shopify has a solution for everything! Whether you sell B2B, through social networks, marketplaces, or in your local store. Few software providers manage to keep their finger on the pulse like Shopify.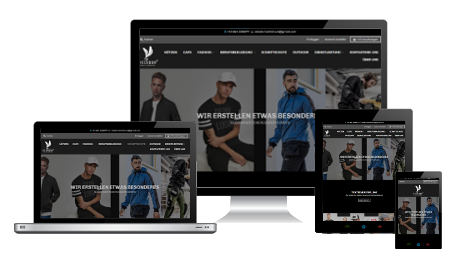 Shopify store software for stationary stores
Especially after 2020, the beginning of the Corona pandemic, the flexibility with which the Shopify software and the Shopify team can react to new circumstances became apparent. Within a few weeks, essential functions such as Click & Collect and the in-house POS system (a checkout) were improved to such an extent that Shopify was able to increase its distribution many times over.
Shopify for Brands & Startups
Shopify is a system in the cloud. That means Shopify's servers deliver your store directly to your customers' browsers. Launch massive marketing campaigns, television commercials, or an influencer mentions your store in their content, whatever happens: Your store must be able to withstand these spikes in traffic.
Shopify has almost perfected this by now. There is a reason why so many startups from "Shark Tank" or the German version of "Die Höhle der Löwen" rely on Shopify.
From our references
Competent advice and very fast implementation of our wishes in the product view. Gladly we come back to 4TFM when needed, have felt understood there and in good hands. We are fully satisfied and say thank you very much, keep it up.

happy-parts.de – Feb 11, 2021
(translated)